In the Press
Press Kit – Ecology Letters – Goldsmith et al. Dec. 6th 2012
December 3rd, 2012
On December 6th, 2012, the journal Ecology Letters released a new article on the interactions between clouds and cloud forest plants. Please contact us for a press release or any other media inquiries.
Link: Paper
Link: Biographical information on Todd Dawson (senior author)
Link: Biographical information on Greg Goldsmith (lead author – via Canopy in the Clouds)
Link: Biographical information on Greg Goldsmith (lead author – via National Geographic Society)
Link: Information on tropical montane cloud forests.
Updated 8 Dec. 12
How To Smile
April 17th, 2012
We're covered in a blog post on the website How To Smile (All The Best in Science and Math Activities) by Deborah Lee Rose. Check it out!
Winners: Scientists Without Borders "Science in Action Contest"
March 12th, 2012
We have won the Scientist's Without Borders' Science in Action Contest in both the photo and video categories. True story! Thanks to all of our supporters for recognizing our work! Here's the winning photo: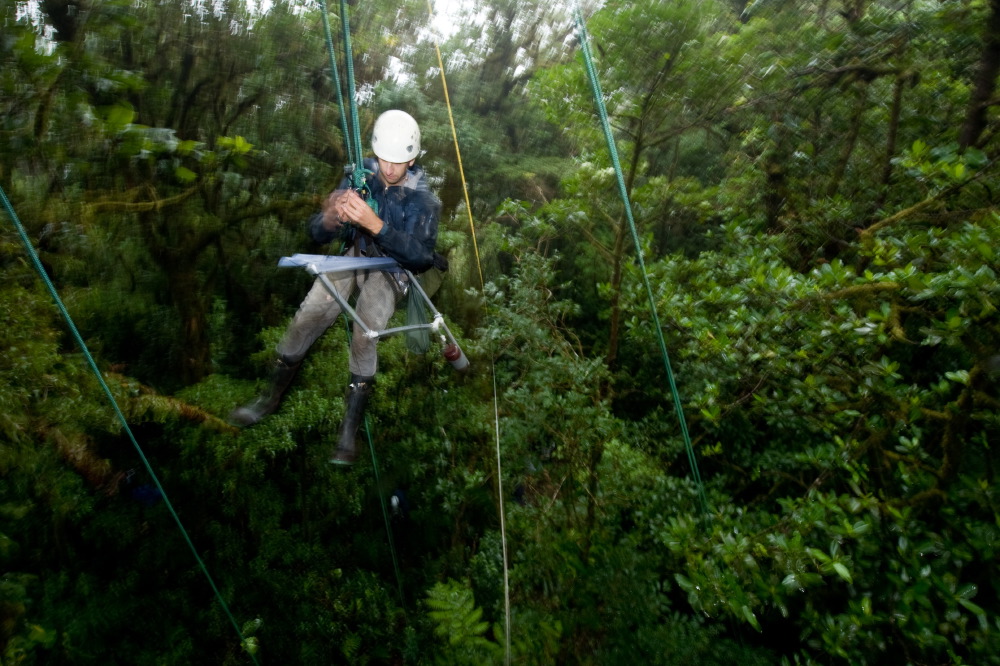 Media Review: American Biology Teacher
January 15th, 2012
Canopy in the Clouds is reviewed in the January 2012 edition of the American Biology Teacher.  According to the article, written by life science teacher Marisa Castronova,
"Today's student is very technologically savvy, yearning to learn at his or her own pace. This resource satisfies that need while exposing the student to an otherwise hidden world. Get ready, pack your bags, and visit "Canopy in the Clouds" to plan your itin- erary. Your virtual field trip is just one click away. I highly recommend "Canopy in the Clouds" for grades 6–12, although its con- tent and lesson plans can be modified for use by other grades. Tutorial videos are also provided. For those without a high-speed Internet connection, the project team is developing a DVD version."
LUMIX CAMERAS x NATIONAL GEOGRAPHIC x CANOPY IN THE CLOUDS
January 1st, 2012

We are proud to be partnering with Panasonic and their LUMIX cameras on a new project! Check out the beautiful media we got using their GH2 cameras!
Berkeley News Center Features Canopy in the Clouds
October 25th, 2011
According to the press release from the UC Berkeley News Center, the website includes "breathtaking, high-definition photos and video" of the tropical montane cloud forest.
Check out the video:
Beneath the Pines of Dear Old Bowdoin
September 14th, 2011

Our friends at the Bowdoin Daily Sun have picked up our article in National Geographic's Newswatch….thanks!
National Geographic Newswatch
September 9th, 2011

We are the feature of "Walking in the Clouds," a National Geographic Newswatch article written by Fabio Amador of the NGS Waitt Grant Program. The footage in the video is not posted anywhere on the website….check it out.
Canopy in the Clouds Honored with EcoService Award
August 14th, 2011
Canopy in the Clouds is honored to be recognized for its contributions to EcoService by the Ecological Society of America and the Union of Concerned Scientists at the Annual Meeting of the ESA in Austin, Texas.
Biocreativity!
August 6th, 2011
Cool….we're on the new Biocreativity blog as a talk to see at this year's Ecological Society of America Meeting. We're fans of the site, so it's great to see to get a shout out.